A selection of pictures from my trip to Sirnak, Turkey
Anne Habermehl, September 2013
Sirnak (pronounced "sheer-nack' ") is a small city on a mountainside in the far southeastern corner of Turkey, not far north of the point where Iran and Syria meet. Its name means "City of Noah." It's an entirely Kurdish city, except for some incomers to the recently founded Sirnak University there. The city overlooks Mount Cudi (pron. "joodi"), where it is most likely that Noah's Ark landed. On the last day we took a bus tour, and at the bottom of the page are a couple of photos from that.
Below left: The entrance to the Sehr-i Nuh (pron. "shairee noo") Otel. Meaning: "City of Noah Hotel." The symposium took place at the hotel, and I stayed there as well, a convenient arrangement.

Below right: A niche in the hotel lobby sported this fine model of Noah's Ark, about six feet from stem to stern. It appears that the Bible omitted telling us that the Ark had three sets of sails!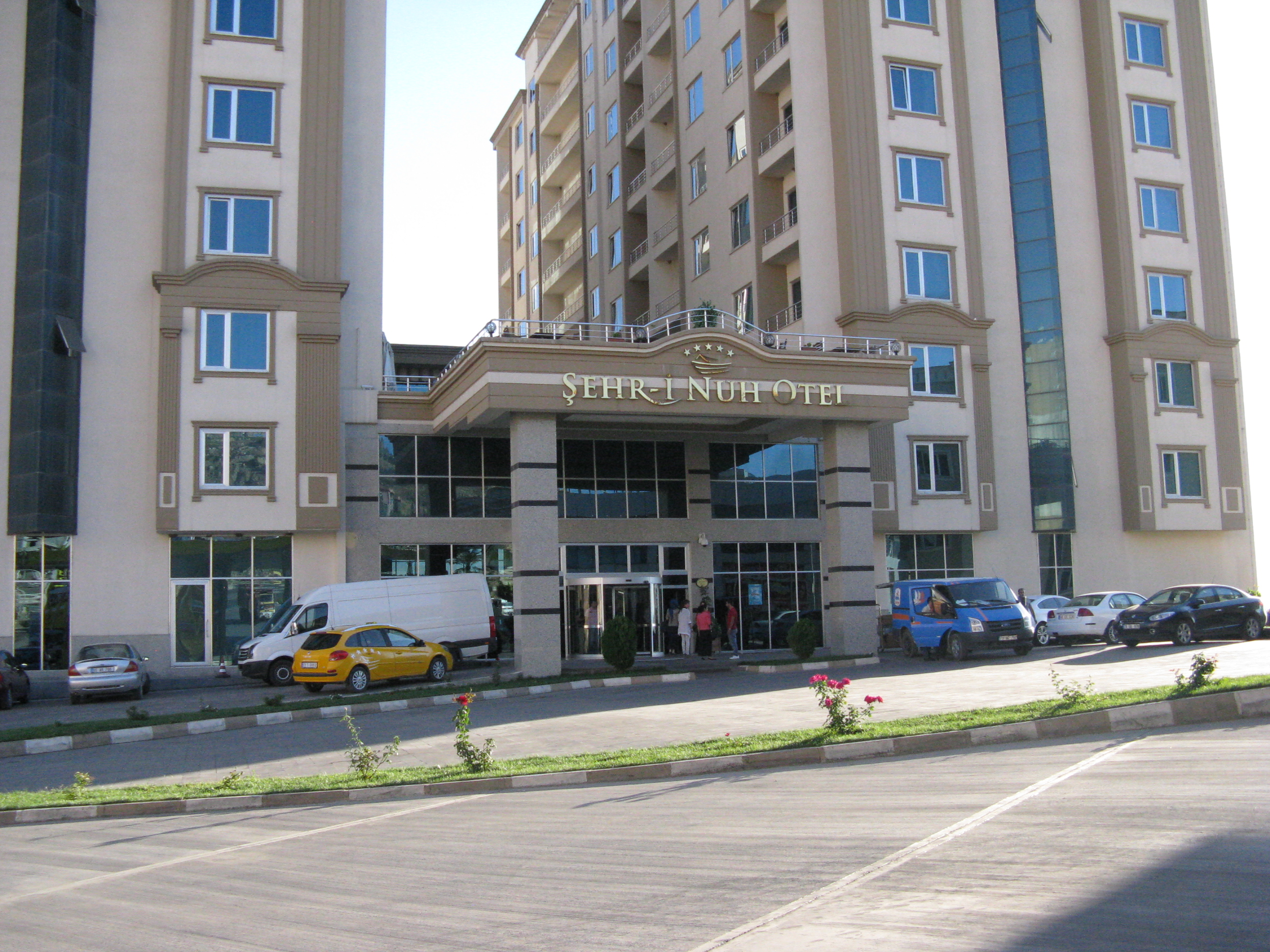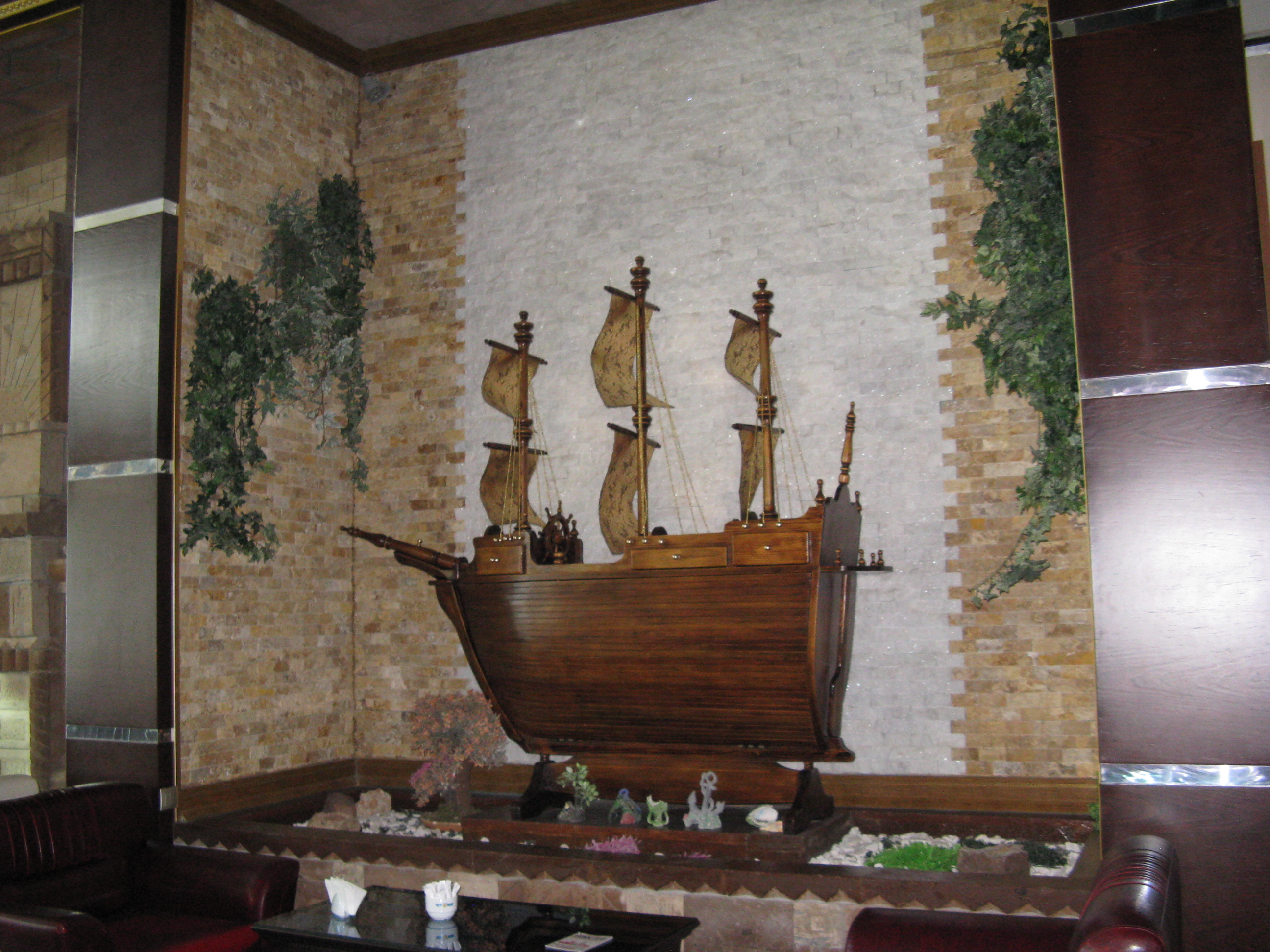 Below left: Roadside fruit stand between Diyarbakir and Sirnak. I flew from Istanbul into Diyarbakir, and the next day a car transported three of us participants to Sirnak, a trip that took about four hours including stops like this. The owner of the stand gave me a fresh fig, and it was really good.

Below right: Whirling dervishes at the Friday night performance of classical Turkish religious music.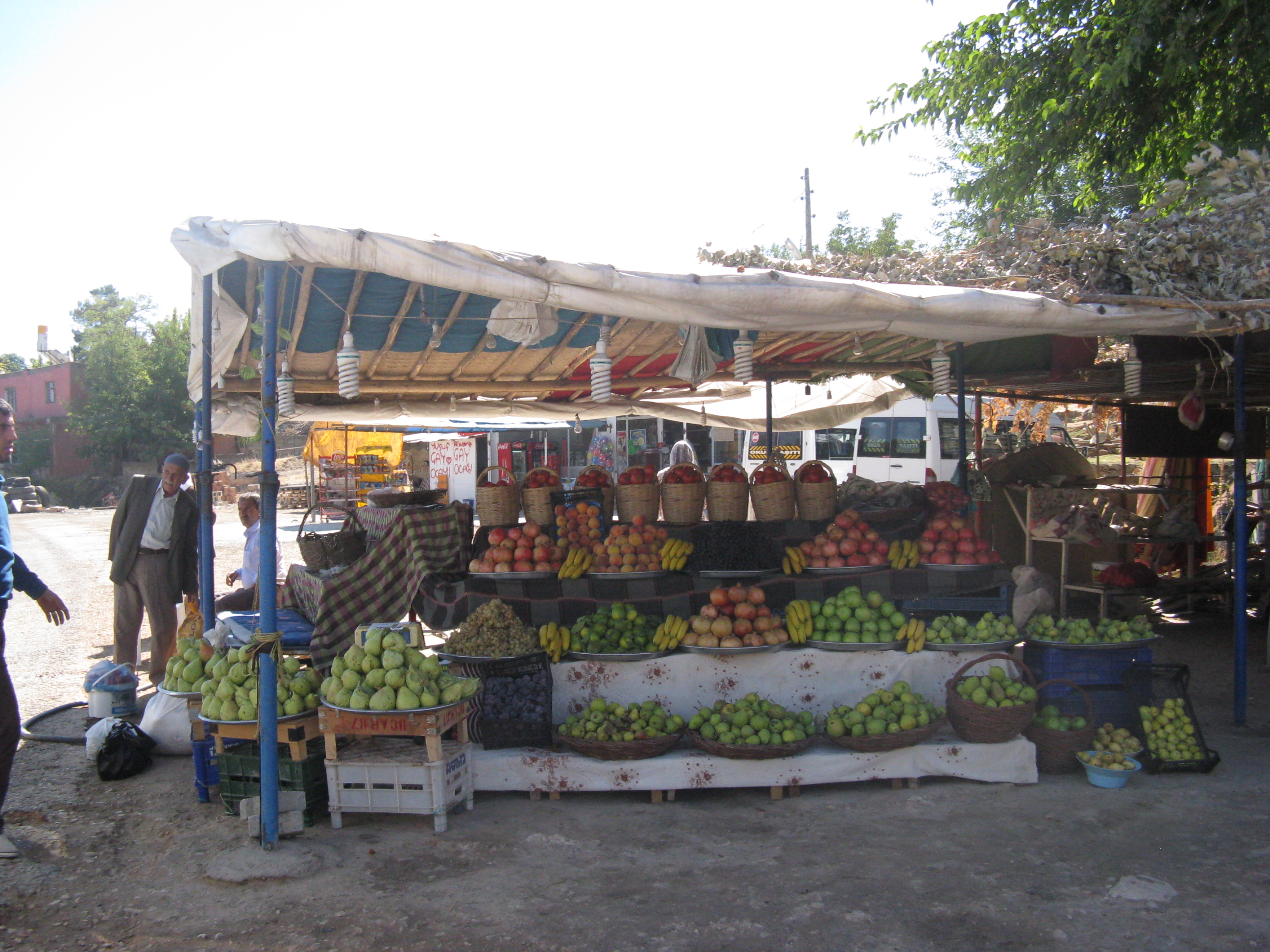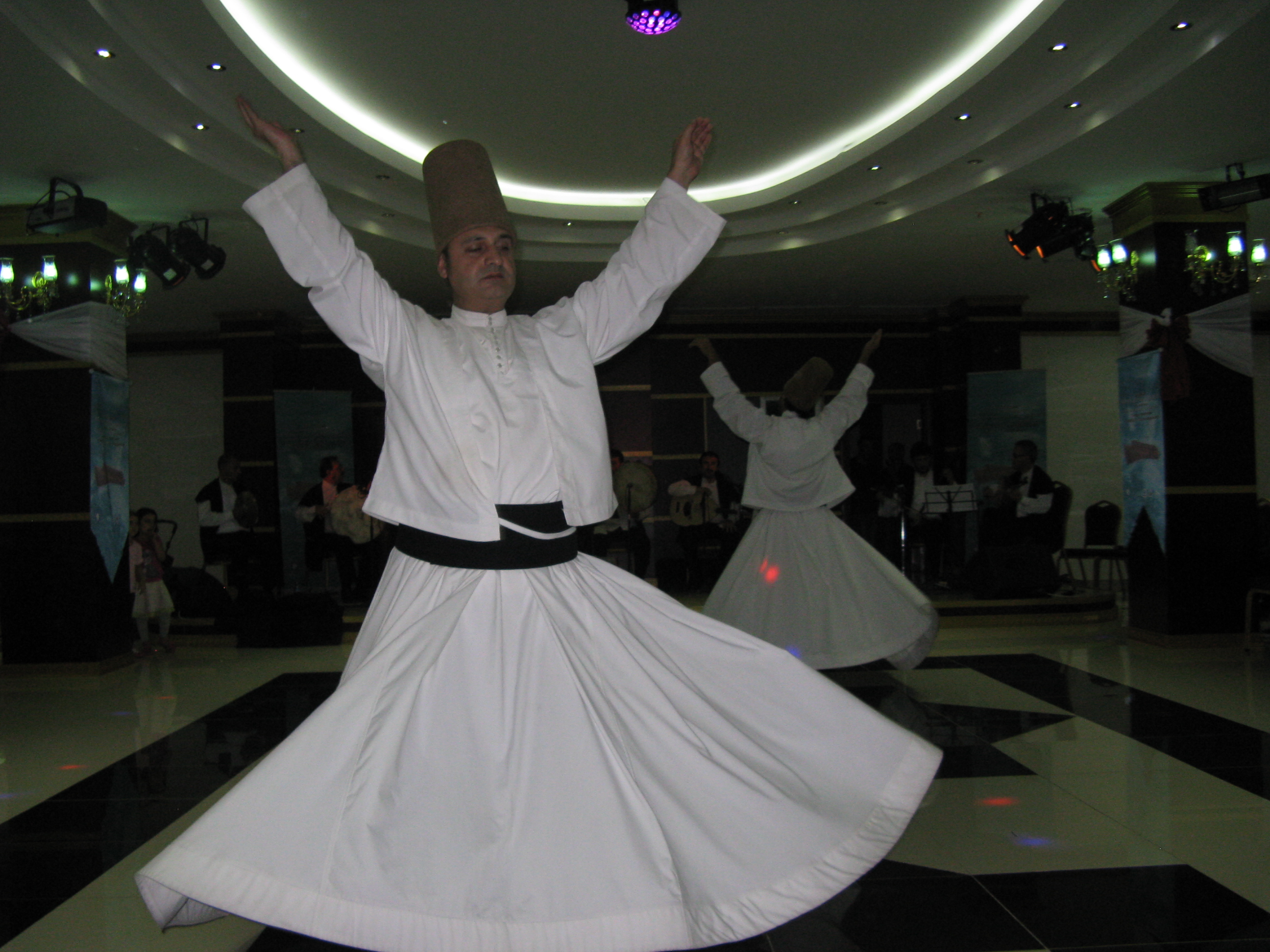 Eight musicians played traditional instruments.
Below left: These gentlemen posed with me in front of a traditional flower arrangement, of which several were propped up in the lecture hall. These men told me that it is customary for businesses to advertise, or for people to send best wishes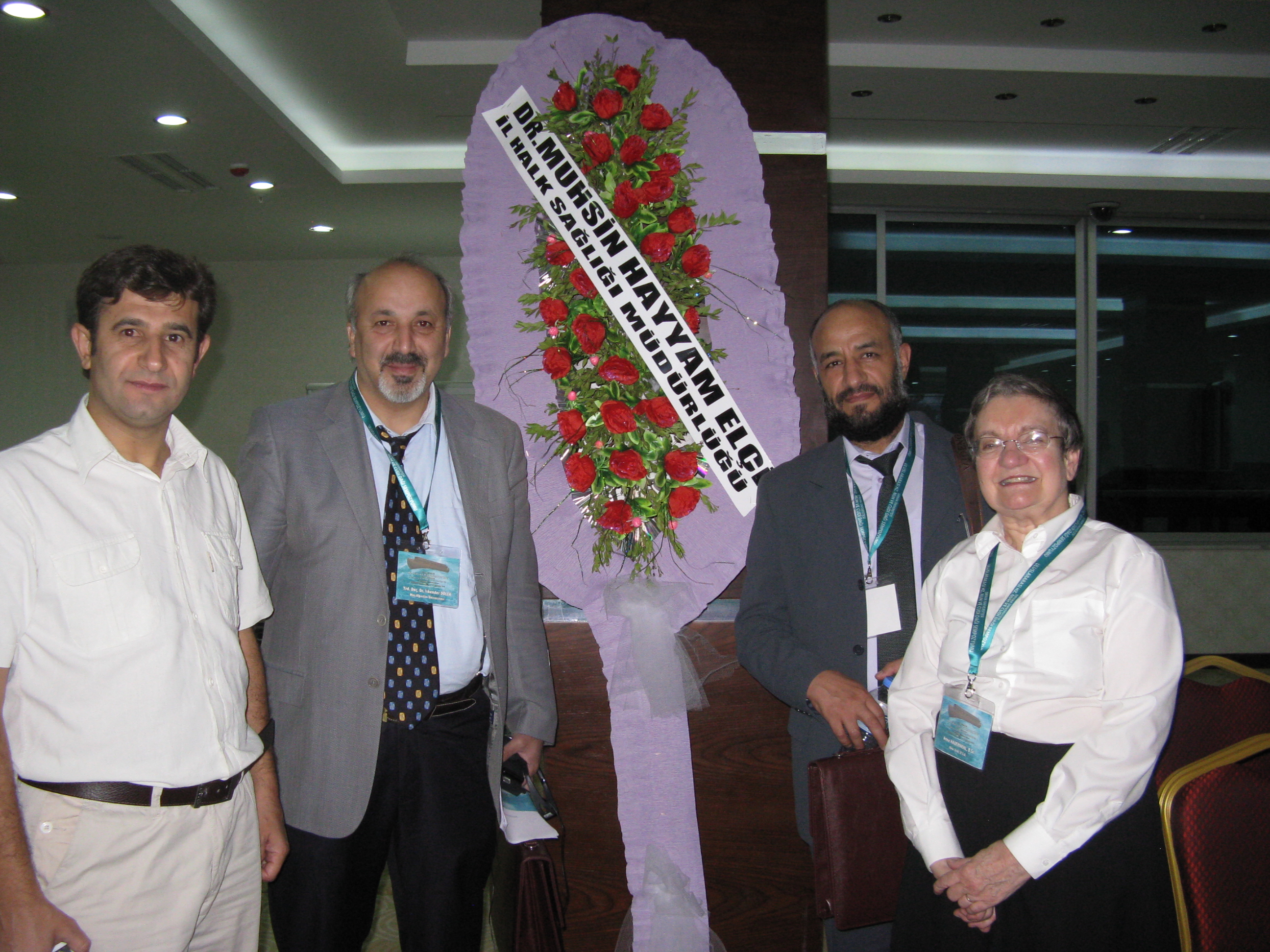 to an event, by sending an arrangement like this.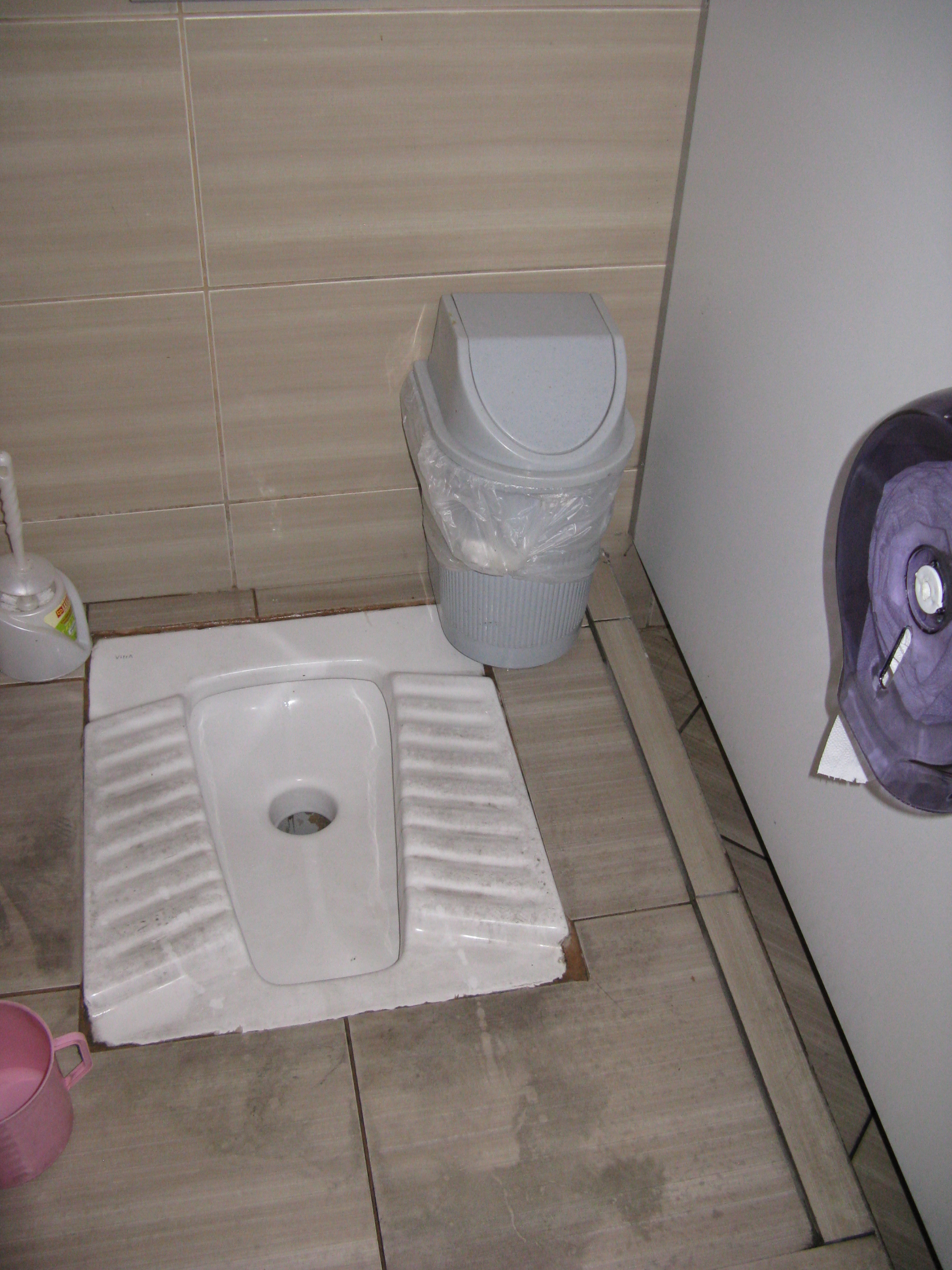 At left: In case you didn't know: this is a traditional Turkish toilet. In places like airports there are always familiar western facilities as well as these (and sometimes the door is marked to indicate which style is within). My hotel room had a western one. But this model shows up everywhere, and in the private home in Sirnak where I had tea, there was one like this. Much of the world uses a similar style; it's a lot like the traditional ones in India and Japan, and I even ran into one in Rome in an old coffee shop.
Below left: The ladies who attended all wore Muslim scarfs, as did all women on the streets of Sirnak and other places in the area. The modern Turkish claim that it's a secular society, and ladies don't wear the headscarf, has not been heard of in Sirnak!
Below right: John Baumgardner (seated on the left) prepares to present his paper. The moderator is in the middle and Gordon Franz at right.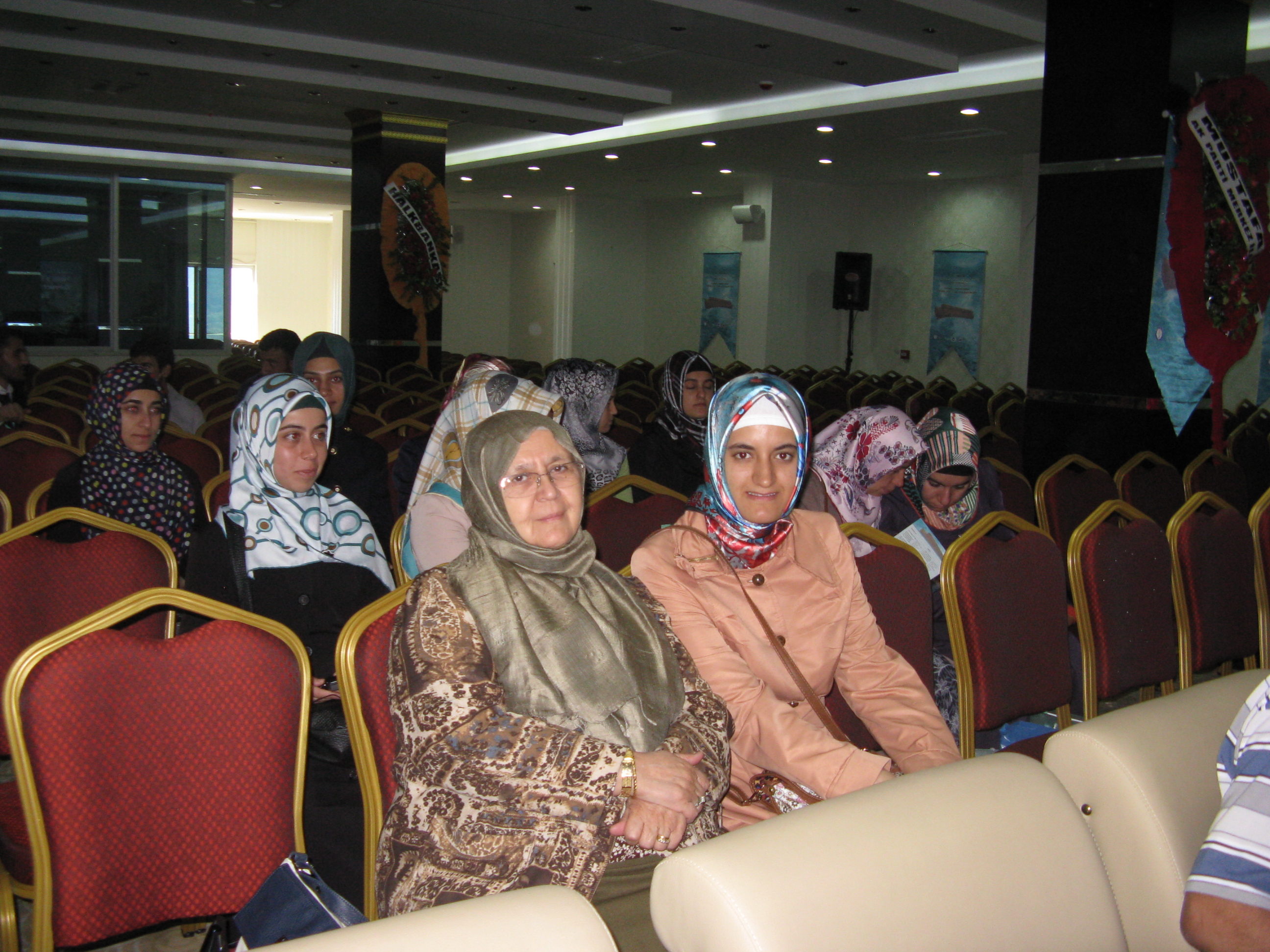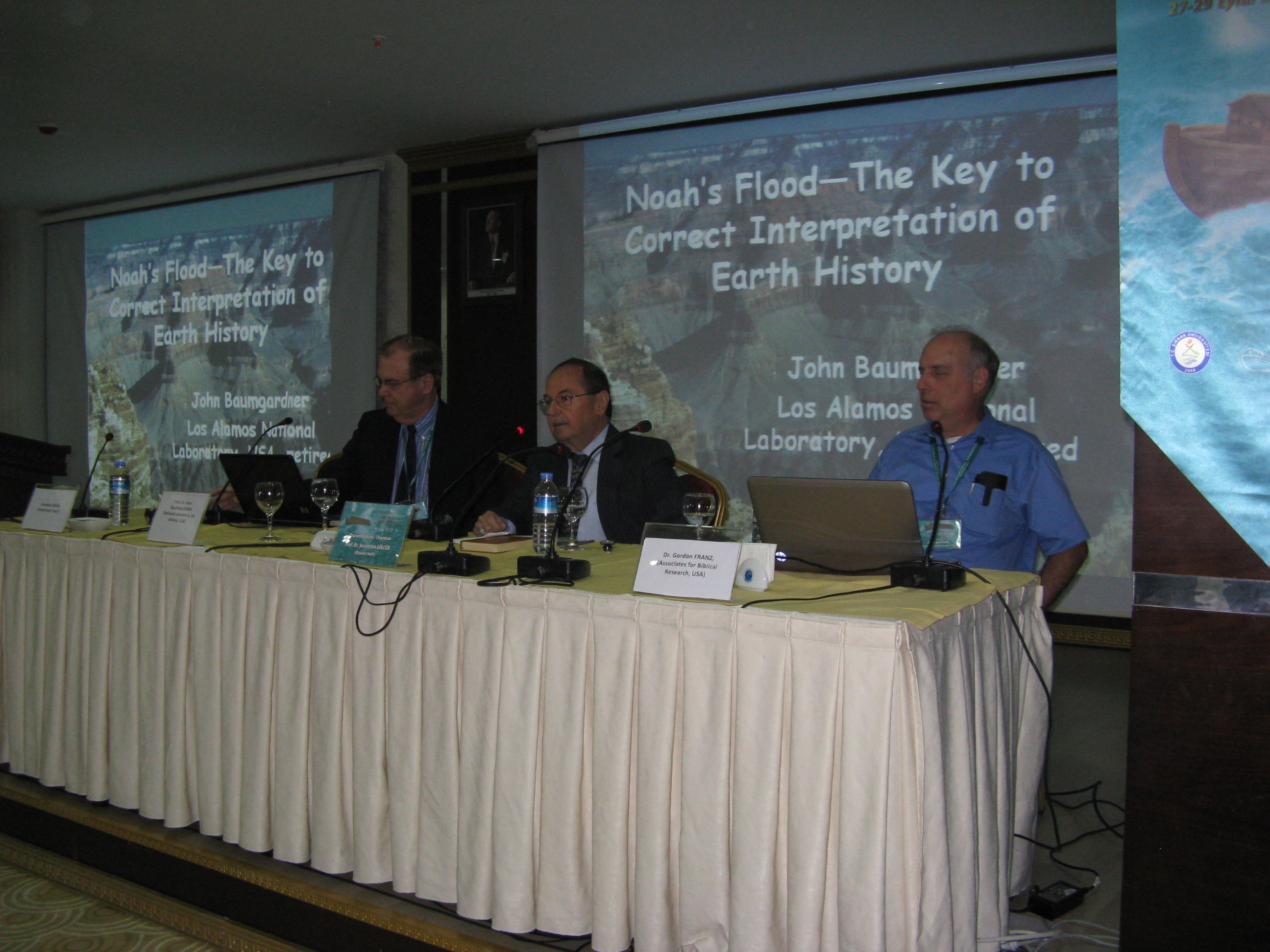 Below left: Typical street scene in Sirnak and perhaps anywhere in Turkey? The men drink tea and pass the time.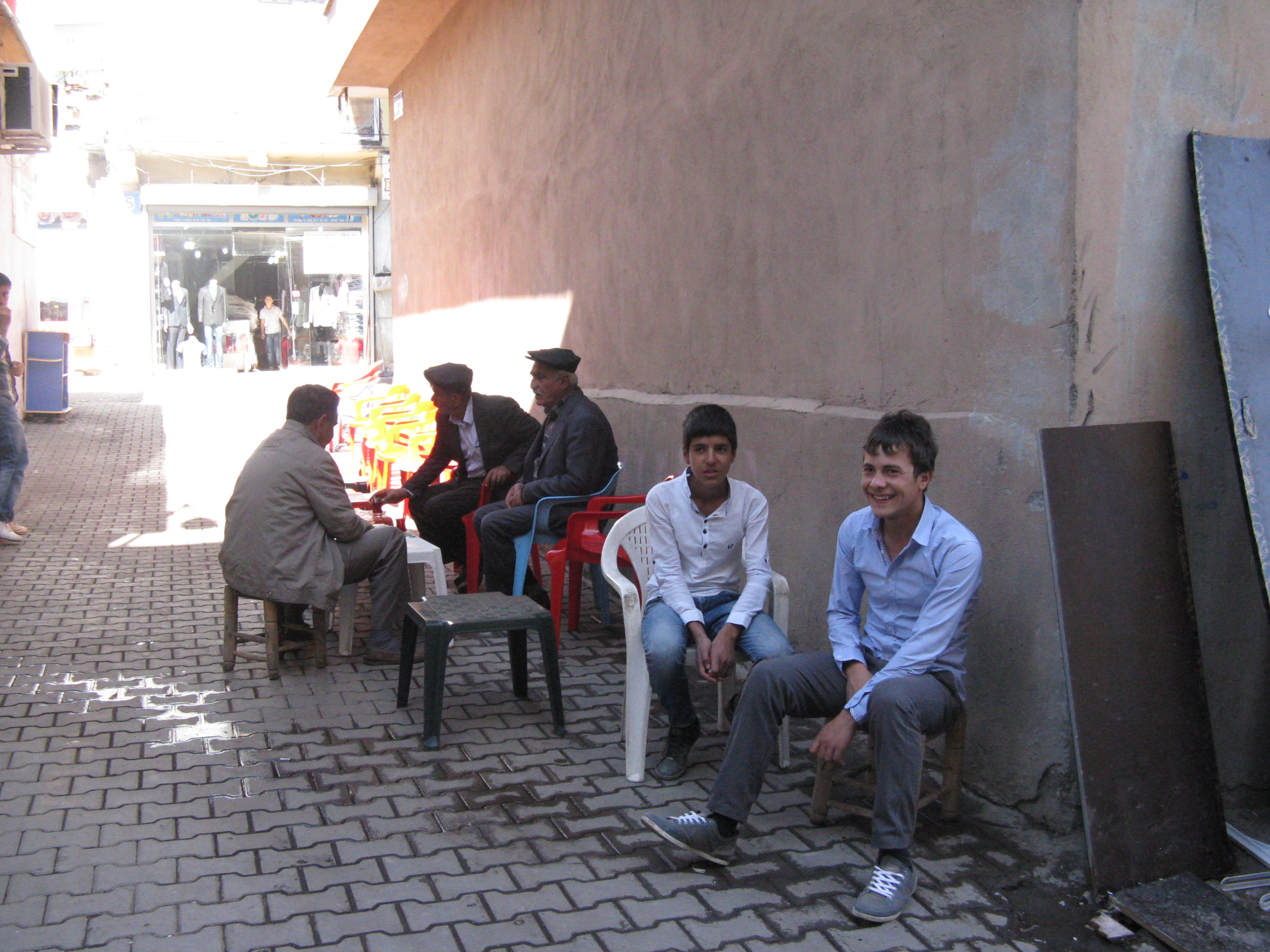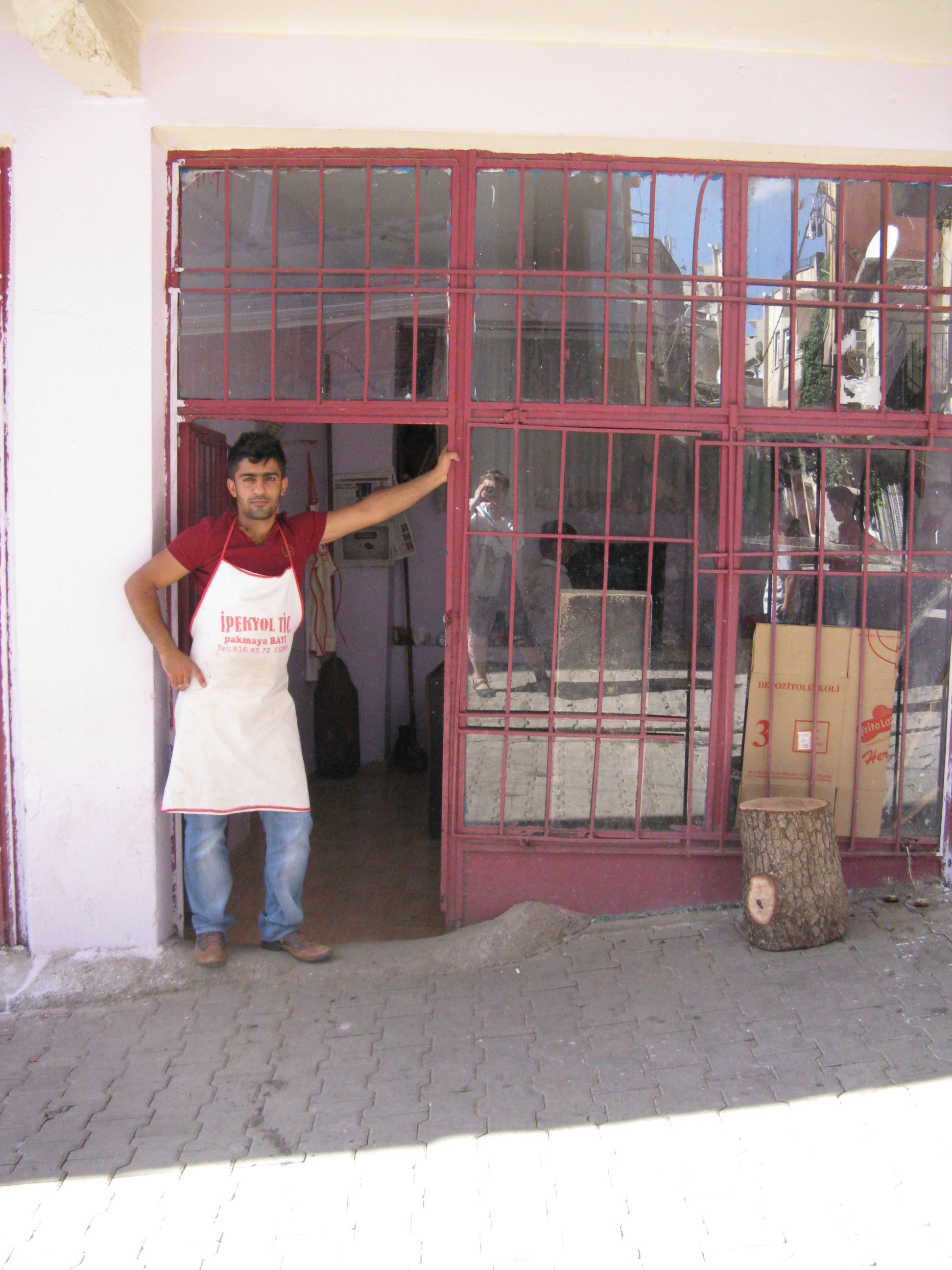 Left: A Sirnak baker posed for me in the doorway of his business. At first he hid inside, but when my Kurdish friend talked to him, he willingly came out. There was no sign on the bakery, and I asked my guides how they knew what it was. They said that "everybody knows"!
Below left: My three Kurdish guides (back row) are joined by a group of boys who happened to be hanging about. It was Saturday, no school, and they said that the children all play outside in the streets.

Below right: Four very friendly Kurdish ladies joined me for this photo.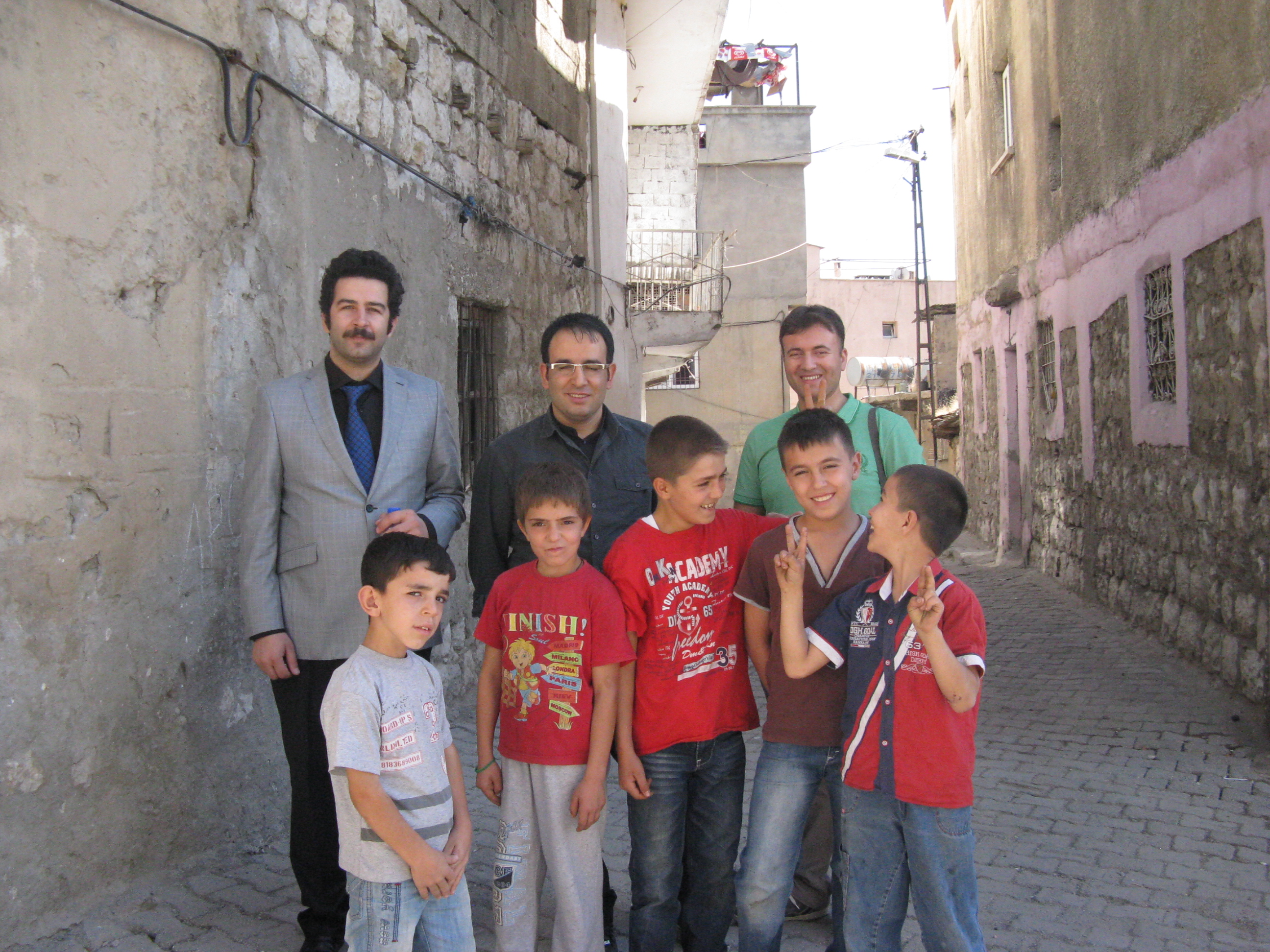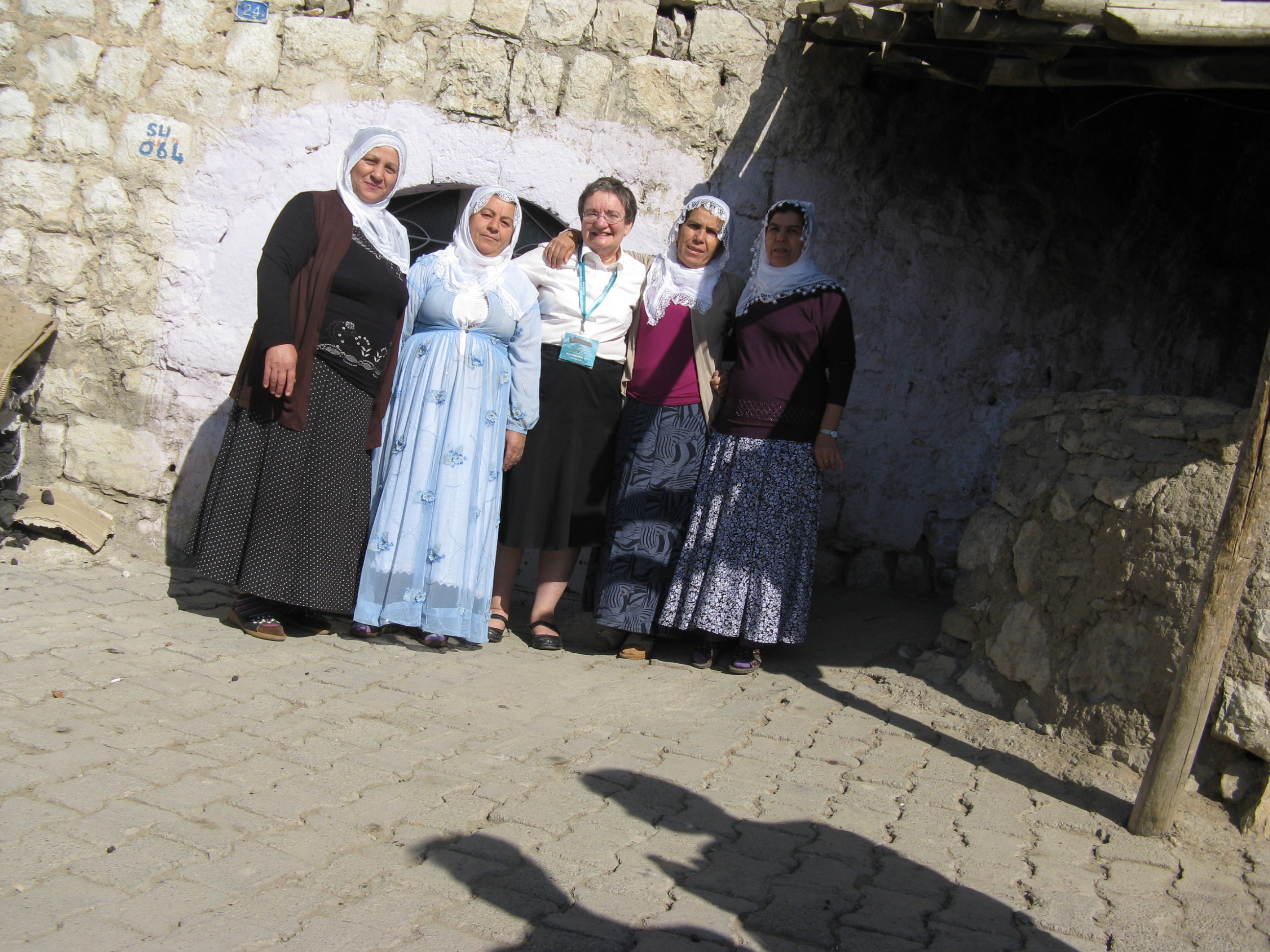 Below left: This blue-and-white structure in Cizre (pron. "Jis'ra) is the place where Noah's body supposedly lies. Inside there is an absolutely humongous casket. However, this is only one of four places where Noah's body is supposedly resting, not counting another traditional location on a slope of Mount Cudi, mentioned by Gertrude Bell in 1910.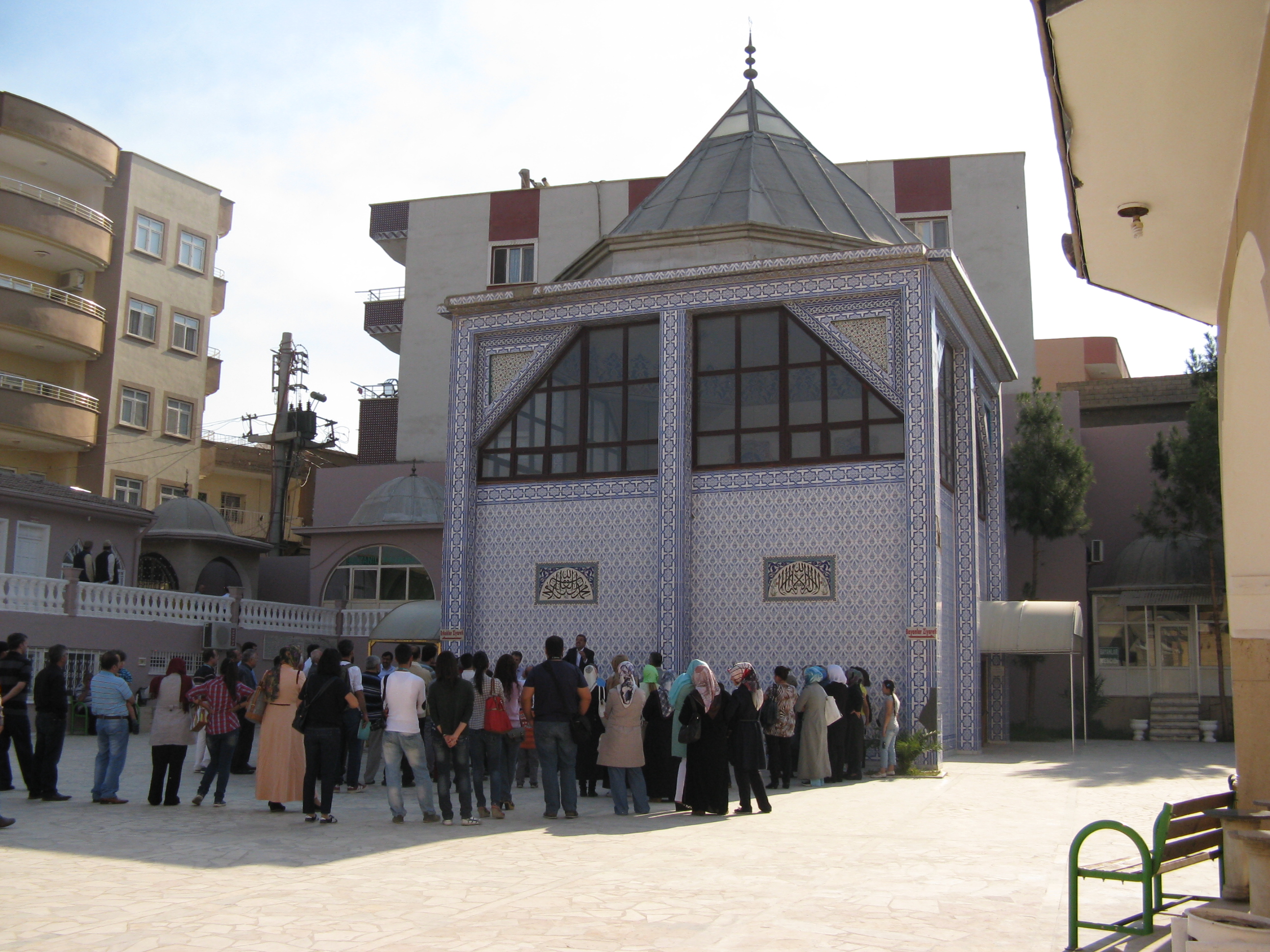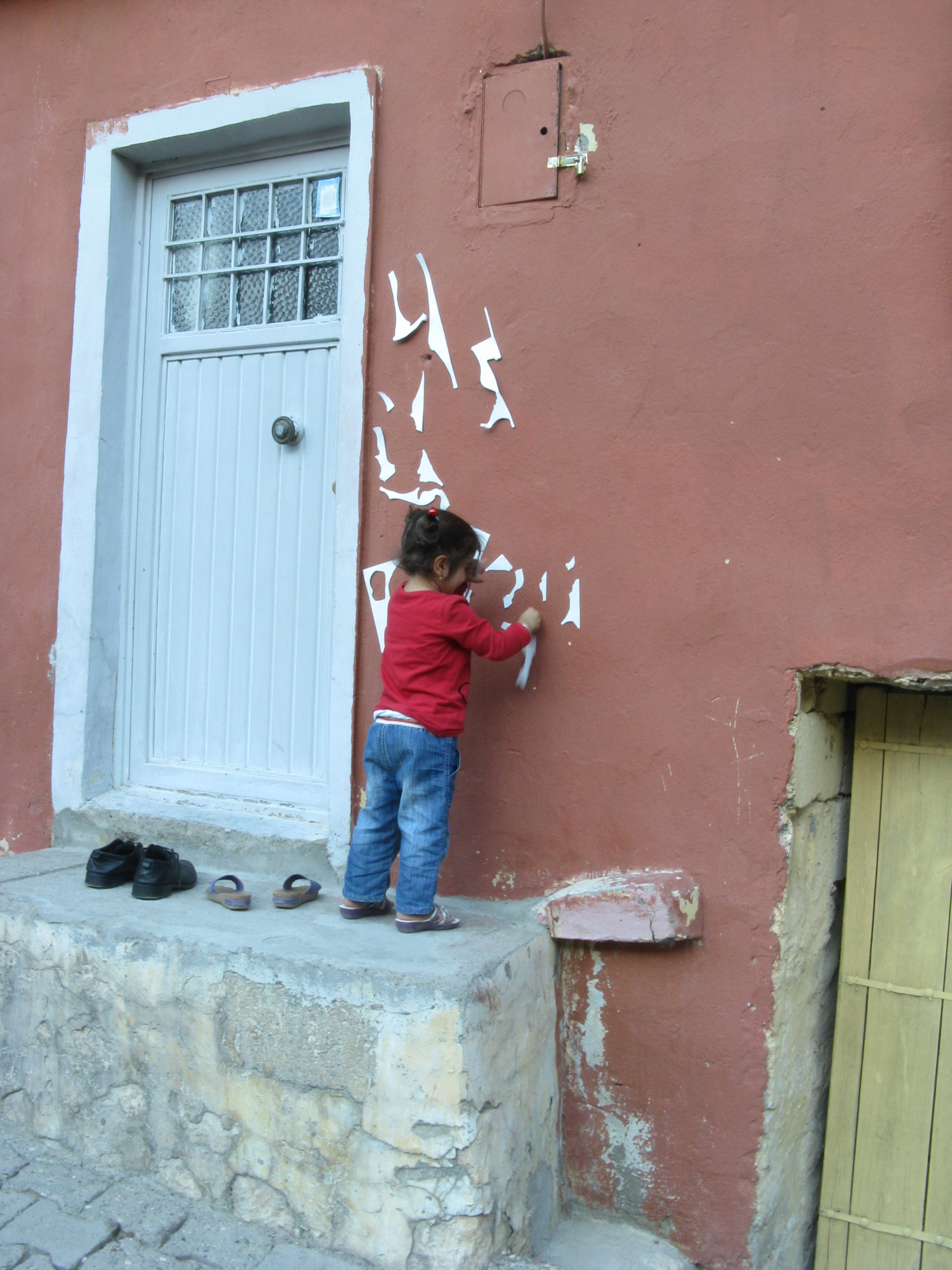 Left: As I was walking along a pathway near some houses at Hasenkeyf, I caught this small girl intently rearranging what appeared to be pieces of sticky white paper. I think she's my favorite from this trip.
They gave us some things that I brought home as mementos. Because I had traveled with only care-on luggage, I had to do some fancy packing to figure out how to get it all home. The nice wooden model Ark at left below was a surprise gift that we each found in our room one day (the base is 10 1/2" long). The brass plate on the side of the ship says "The ship of the Honorable Noah" in Turkish.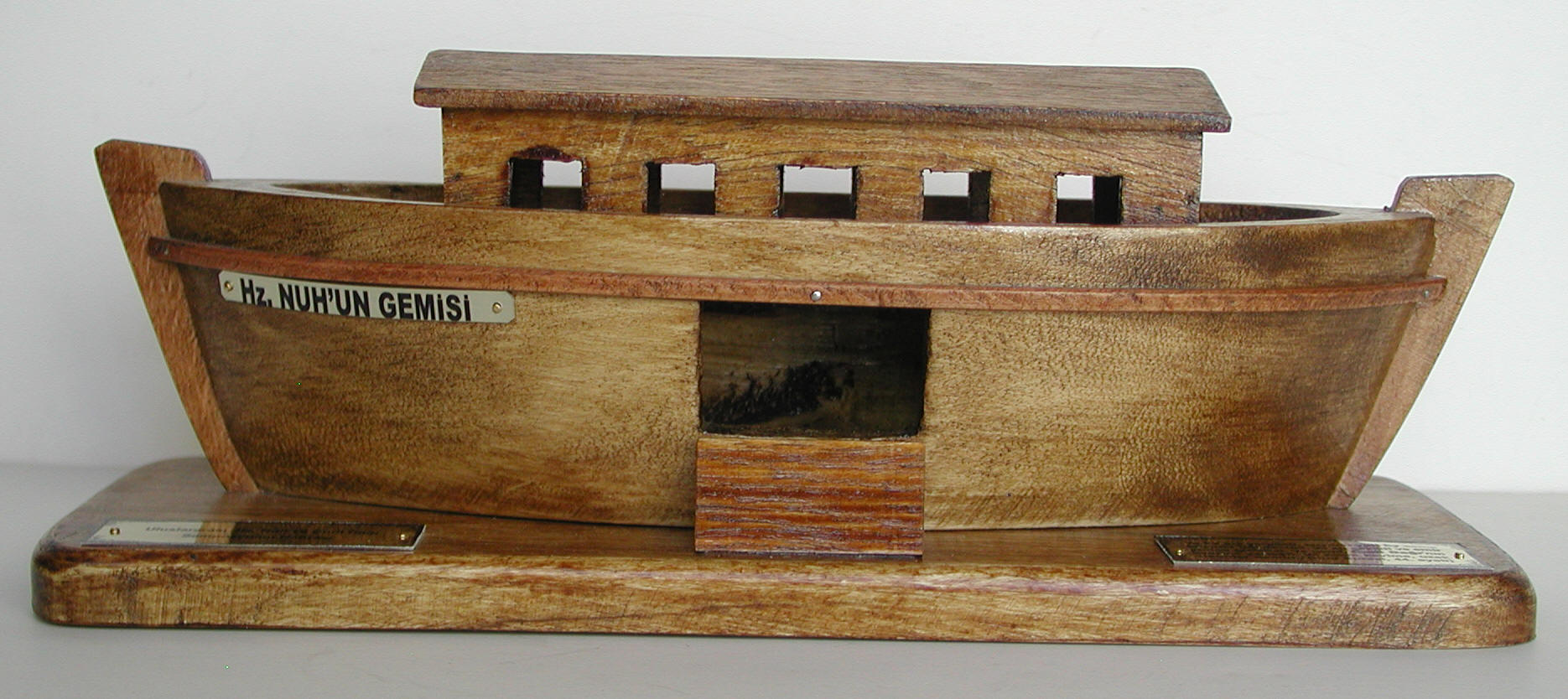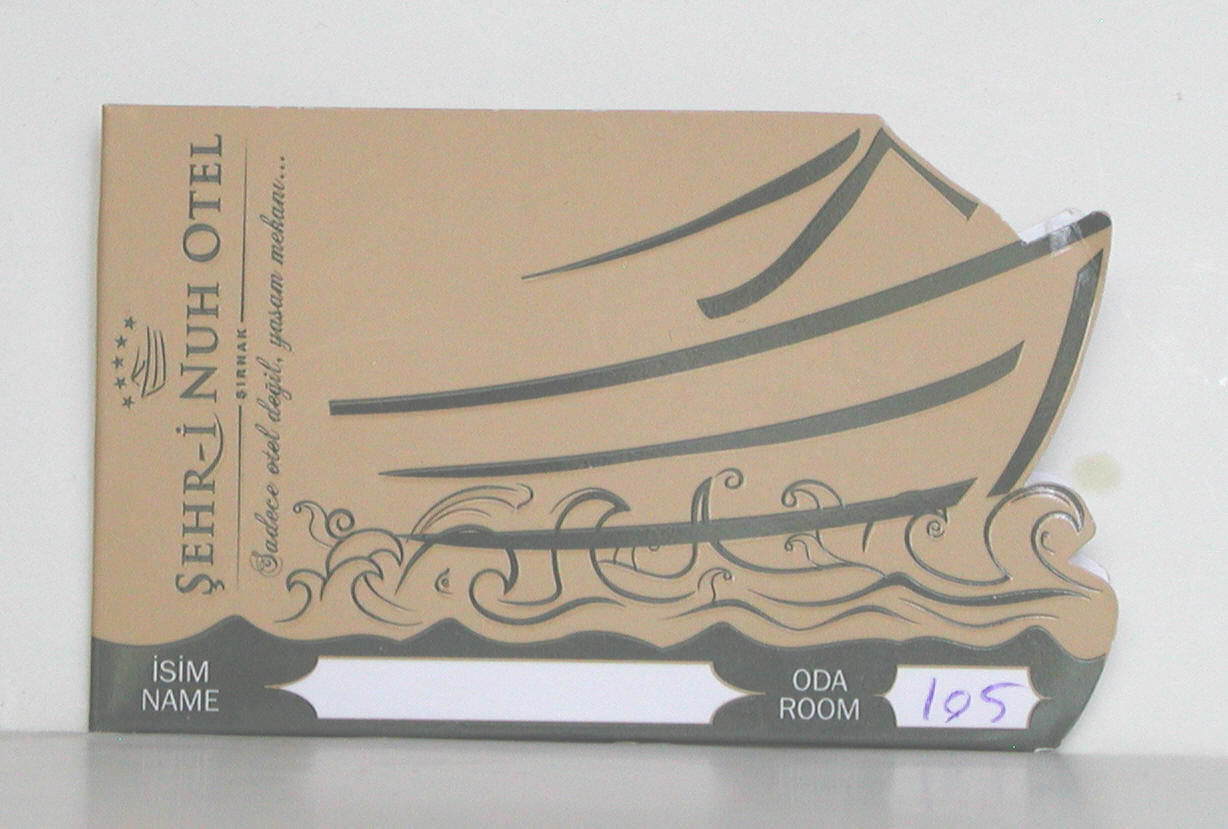 At left is the key card holder from the hotel, shown oversize. This ark logo was on everything in the hotel, even the salt and pepper shakers (no, I didn't hock those).
Below left is the certificate of appreciation presented at the end of the symposium. In the photo on the right are the official ark folder (top), and (below) the program, a notebook, and the nametag we wore.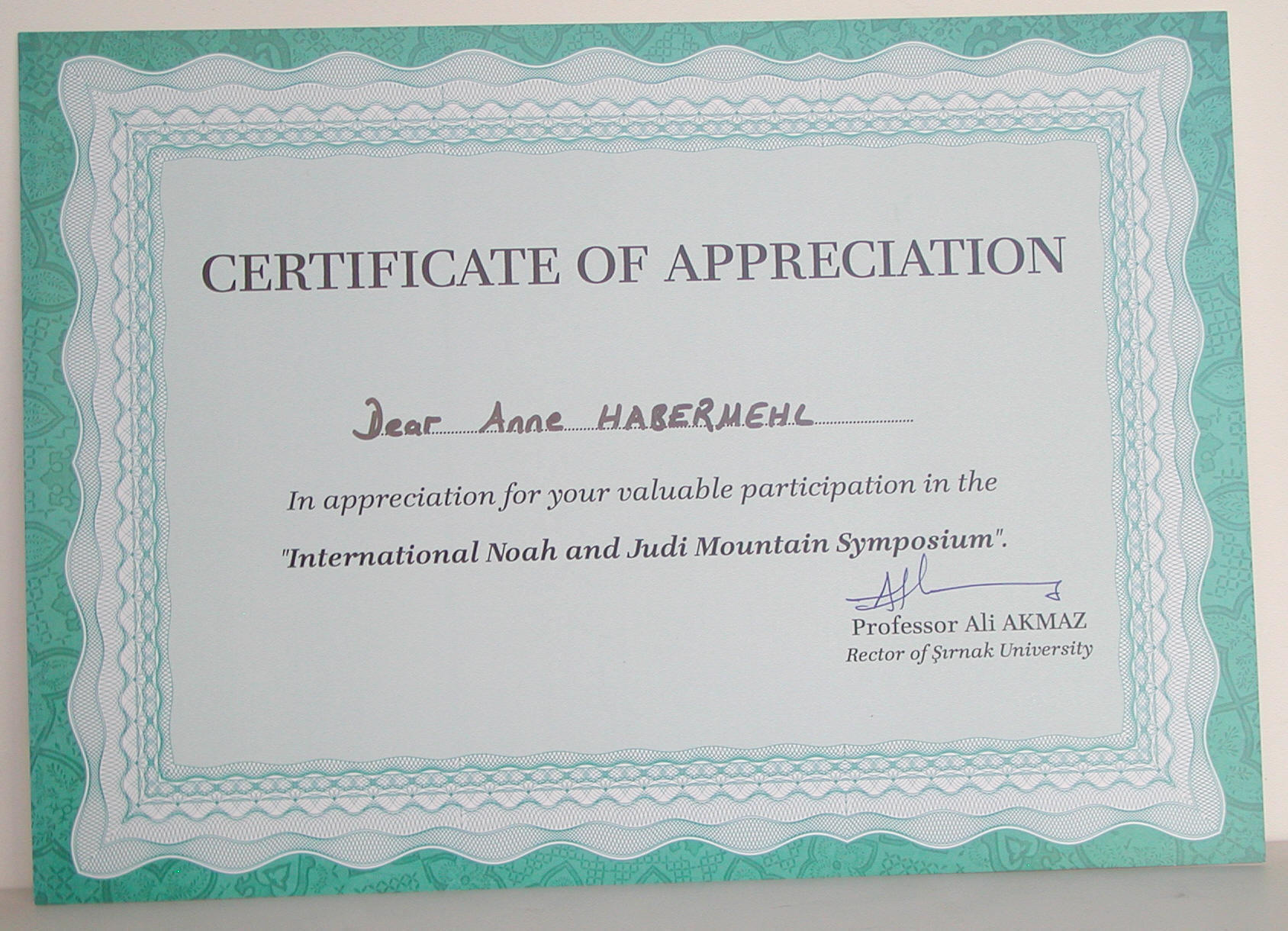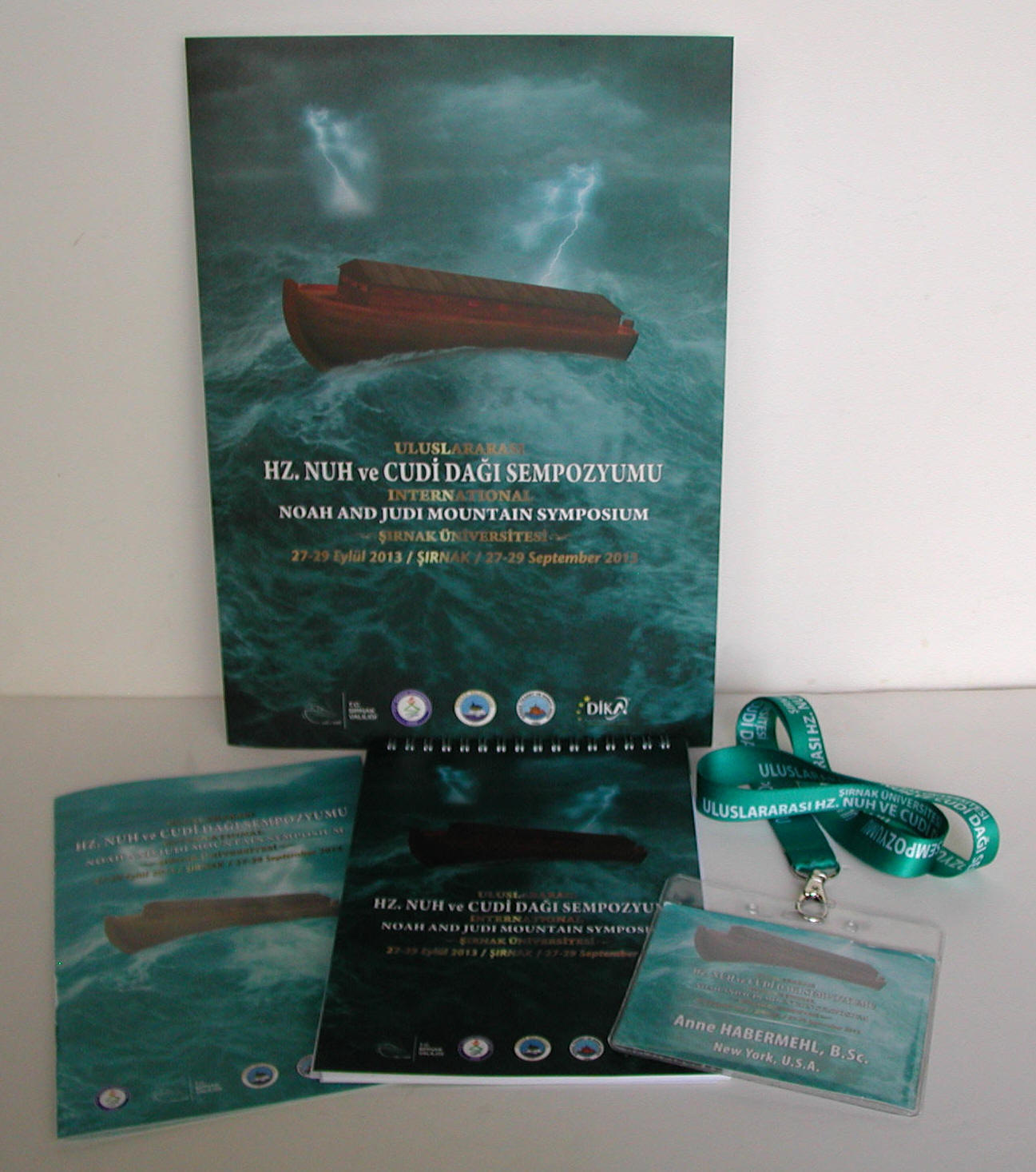 They also gave us this very nice briefcase stamped with the name of the symposium and a row of logos. The first on the left is the University of Sirnaak, and the second is a mountain and ark.